As noted on the Avsim main page, this is a new FSX add on which offers you three functions to improve your IFR airliner flights: a replacement ATC system, a flight planner and a co-pilot. It is by German developer Pointsoft, who I've never heard of LOL.
A link to the product site - note that the screenies at that site are tiny, and consequently don't show a lot, so I've posted some bigger ones here on this thread:
http://www.pointsoft...cxfeatures.html
At 40 quid (about 65 Dollars) this is not a cheap add-on, but then again it does do three fairly major things, so it would perhaps be better to think of it as several add-ons combined, which makes the price a bit easier to swallow (more on this below).
What you initially see upon installation and having fired it up, is an interface which looks like this. Don't worry, there are loads of available airline choices and you can add your own aircraft types too, so you don't have to fly for the Luftwaff - I mean Lufthansa: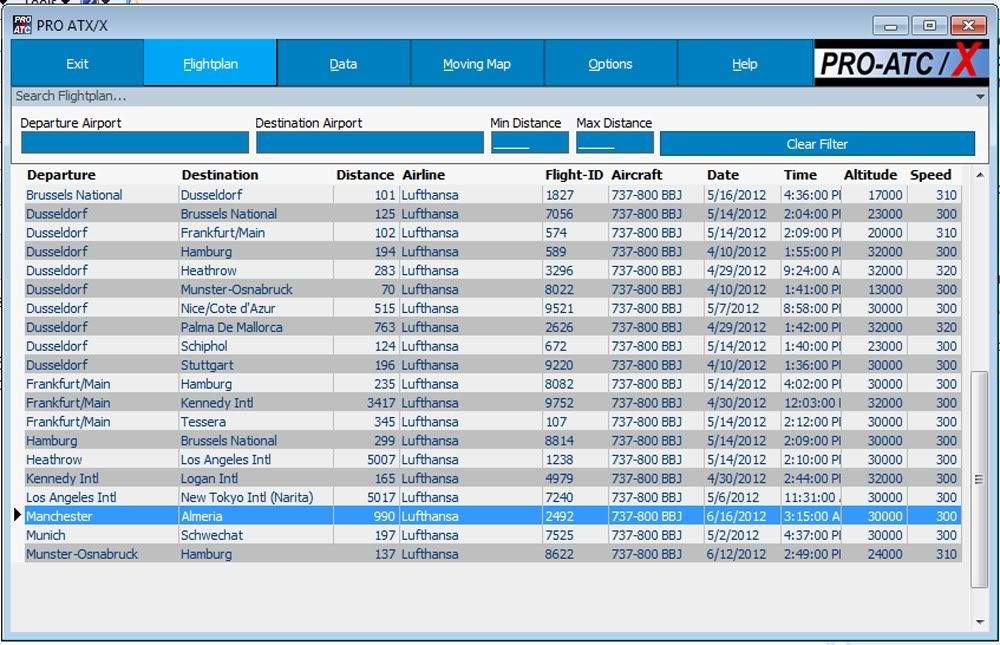 Click on the flightplan bit and it takes you to a screen where you can set up a flight which will automatically generate an IFR plan for you between your chosen departure and arrival airports in a manner similar to the default FSX flight planner: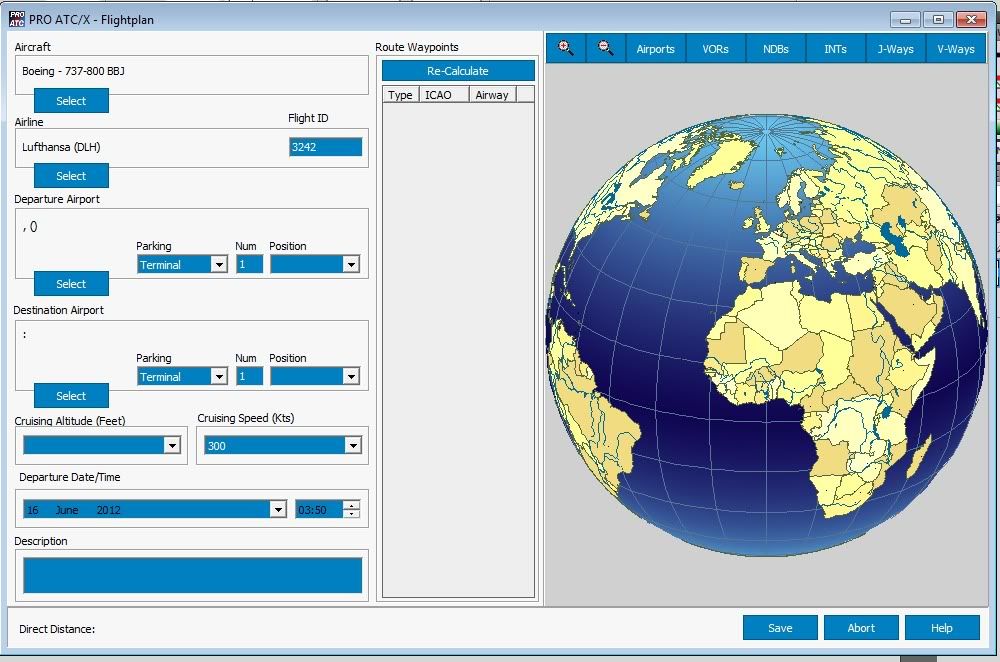 Again, sort of like the default FSX planner, you can then amend by right clicking on things to either add or delete waypoints on the route, although unlike the default planner, it has SIDs and STARs: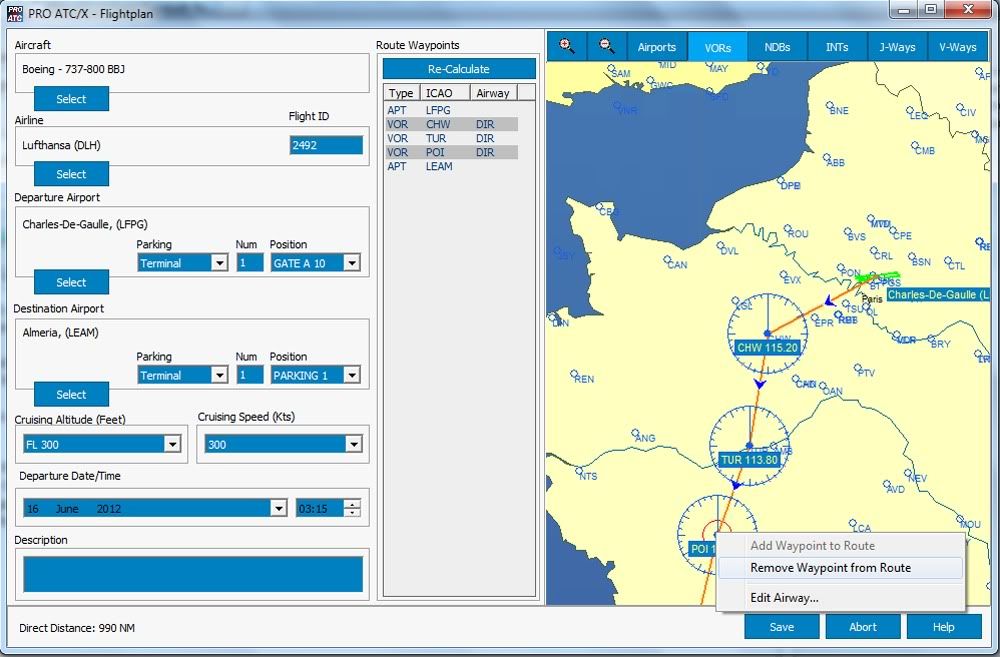 Having set up a route and saved it, you can then choose from rather a lot of options relating to how your co-pilot will assist you, and what sounds will be played etc, etc (including some very nice real world ATC pre-recorded stuff if you like). These choices can also be tweaked on the fly when the thing is running in FSX, so it is very customisable: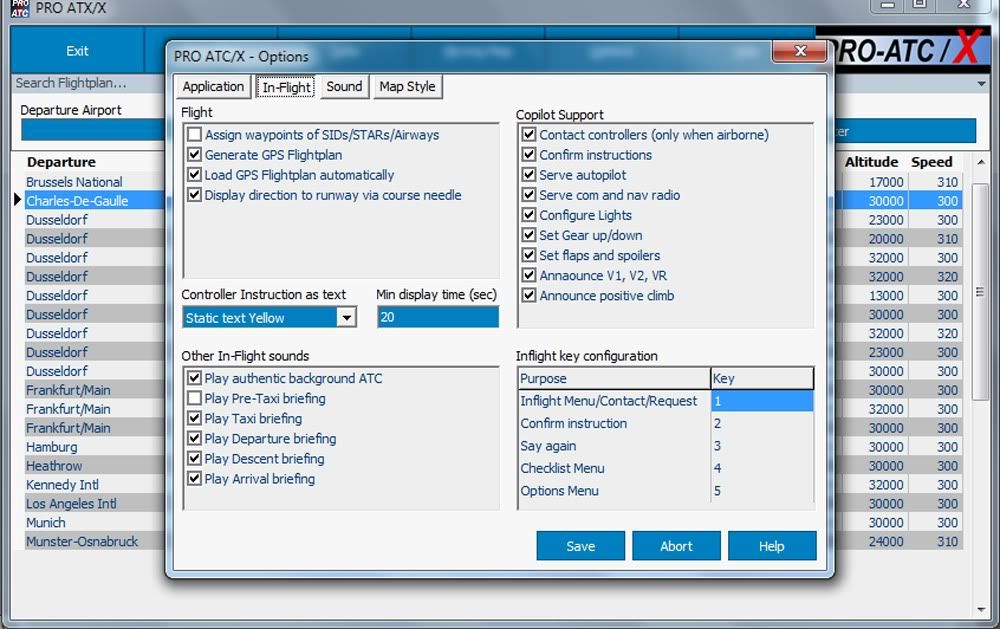 When you've set everything up to your preferences, you right click on your created flight plan in the list, and with FSX already running, it will set up the flight for you when you click the option which appears to enable you set up things such as the time and start location airport gate: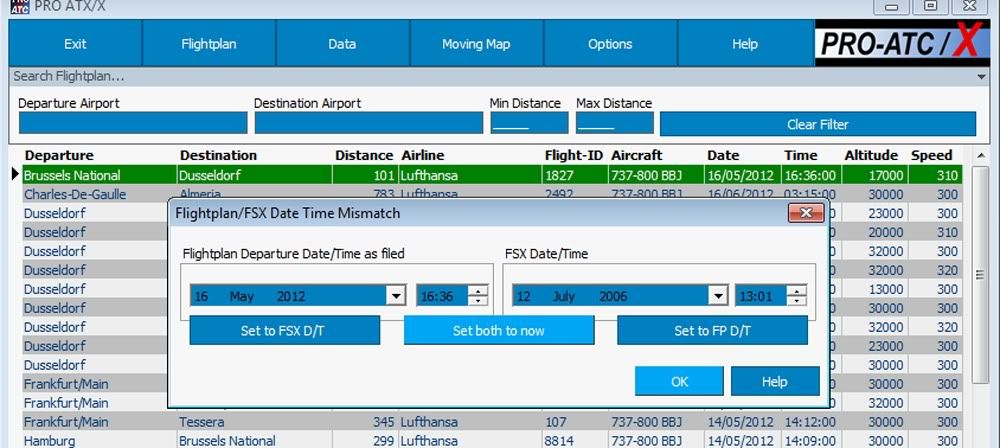 When FSX fires up, you press the 1 key (that's the default, you can change it) and up pops a modified ATC window with all the options which Pro ATC adds. And there are a lot of them, here you can see the choices on what your co-pilot will or will not do for you: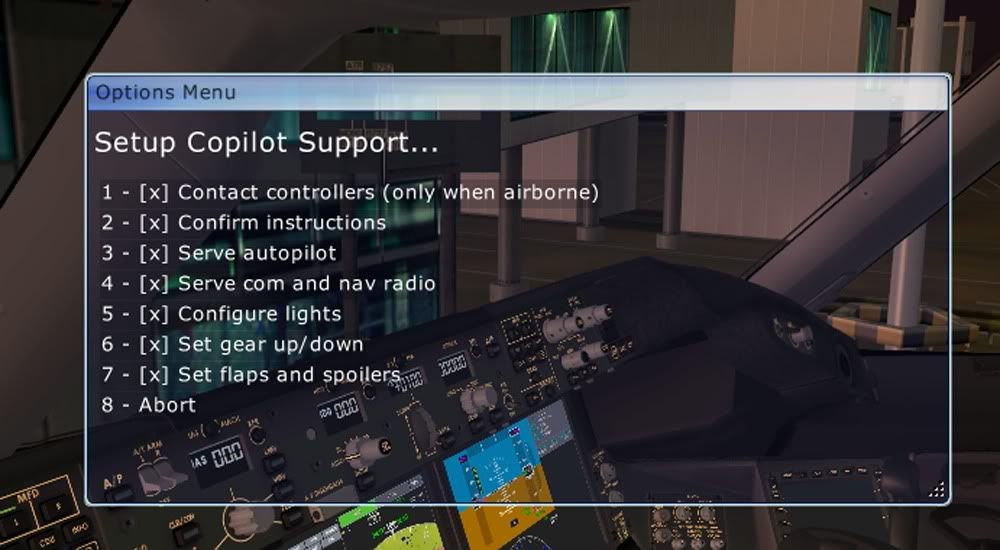 Here's the choices for checklists: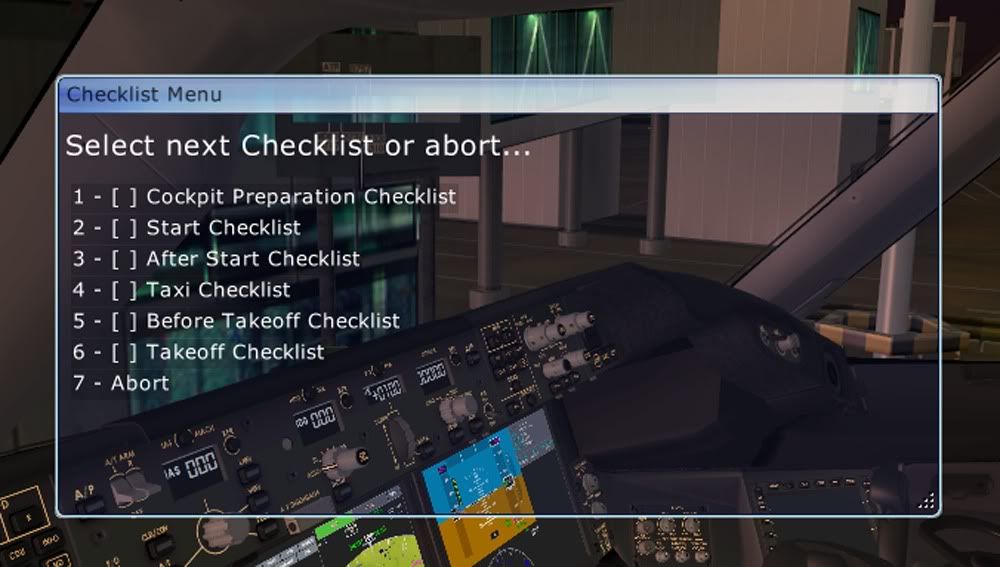 And here's the regular ATC menu with some expanded choices: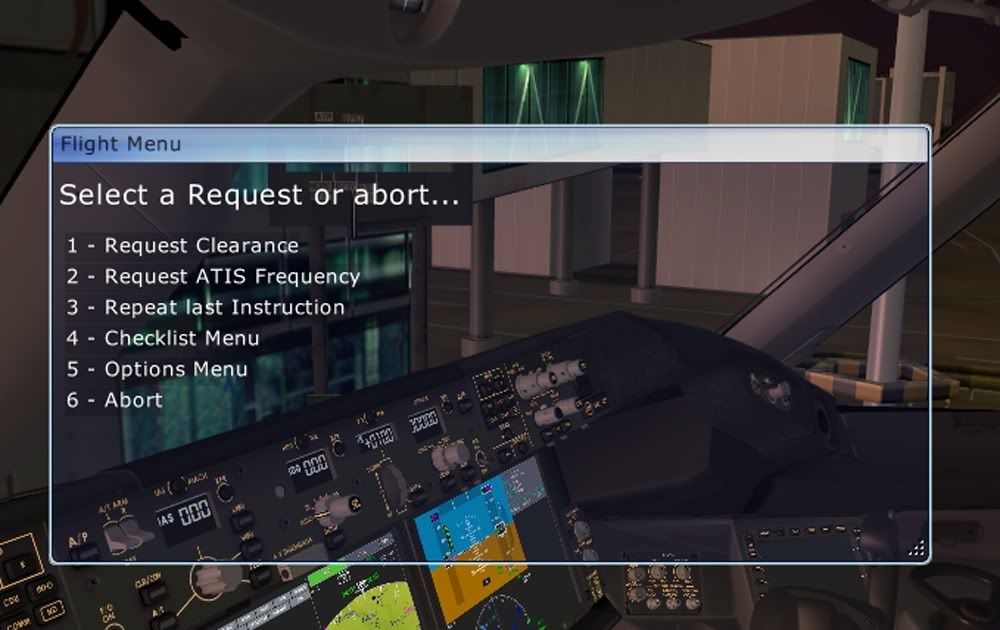 All of this stuff has audio, so you can have you co-pilot go through checklists, and you will press the 2 key to acknowledge things (you can reassign that key if you like), where it plays audio for your response. You can select a variety of voices, although Germany features prominently here, since it's a German development company, but the voices are not heavily accented, so it's all perfectly undertandable English, and there are some nice options, for example, you can have a female co-pilot if you like. Go on, admit it, you like that idea, don't you?
When you contact ATC for clearance, push back, engine start etc, the procedures are also with audio and very true to real life procedures, so both the co-pilot and the ATC module do a similar thing to stuff such as FS2Crew, MCE and Radar Contact combined. This means it's quite a lot of bang for your bucks, which goes at least some way toward explaning the rather hefty price tag. And it works with any aeroplane.
Now the bad news, well, sort of. Initially when I installed this, I had loads of problems with it, it wouldn't let me add or remove waypoints from plans, the options windows kept closing randomly on me, and all kinds of stuff like that, to the extent that I was forming the opinion that it was an overpriced piece of garbage. So thought I would try reinstalling it as the admin and then running it as the admin too, courtesty of right clicking on the installation file and then right clicking on the exe fiel to run it, and guess what? that sorts it all out, and it then runs just fine. So I was getting narked off for no reason really, although they could have suggested doing that on the install window and saved me a bit of trouble LOL
But - there's always a but, isn't there? - before you get too excited, there are some flies in the ointment, the main one being that the database of SIDs and STARS is not absolutely complete, for example I found that some fairly major airports did not have some procedures which they should have done, places like Paris Charles de Gaulle, Brussels, Manchester and Almeria, so there is clearly some work still to be done to make it really zing.
However, there are apparently plans to add other sound packs, and I should think at this price they will have to look at getting those procedures in there too (there are a lot which are present too by the way, so don't let that put you off too much). So whilst I would say that it is currently a bit pricey given the certain lack of quite a few SIDs and STARs, and the fact that you cannot import a flight plan but must instead let Pro ATC create it and then amend it from there, this does in fact have the potential to be a must have if you like stuff such as MCE, FS2Crew and Radar Contact, because the ATC and the co-pilot functions are really rather good.
I hope they make a demo of it, because it would be nice if people could give it a try out before deciding to stump up 65 bucks. But having sorted out my initial issues with it, which did initially make it a pain in the &@($*, I have to say that it is really pretty good.
Al