Instead of popping around from place to place using the map or doing random jobs as I've done in Hawaii, I decided try out a different way to explore Alaska. I'm going to make one big, continuous tour, deciding my next destination along the way, and stopping in on random airstrips as I go. I don't plan on landing at every single dirt strip or seaplane base, obviously, but I figure that I can hit most of the major stops. Some trips I'll use VOR stations to navigate, others I'll just try to fly visually, some of those dirt strips are pretty small though, and I'll have to use the overhead view or the map.
Yesterday I flew around Anchorage, then up to Wasilla (does everyone have their own private airstrip there?). After that I went through the mountains to the east and ended up landing at Lake Louise on a tiny, hazardous strip along the southwest shore of the lake.
Today I took off from there and headed east to Gulkana, then on north to Allen AAF. Around this time was where I actually came up with this tour idea. So I decided to stop at a few airstrips on the way, while following the flight path from the Gulkana VOR station to Allen.
Flying north from Gulkana towards Paxson Airport, I'm above Paxson Lake here. The airstrip is just visible above my airspeed indicator.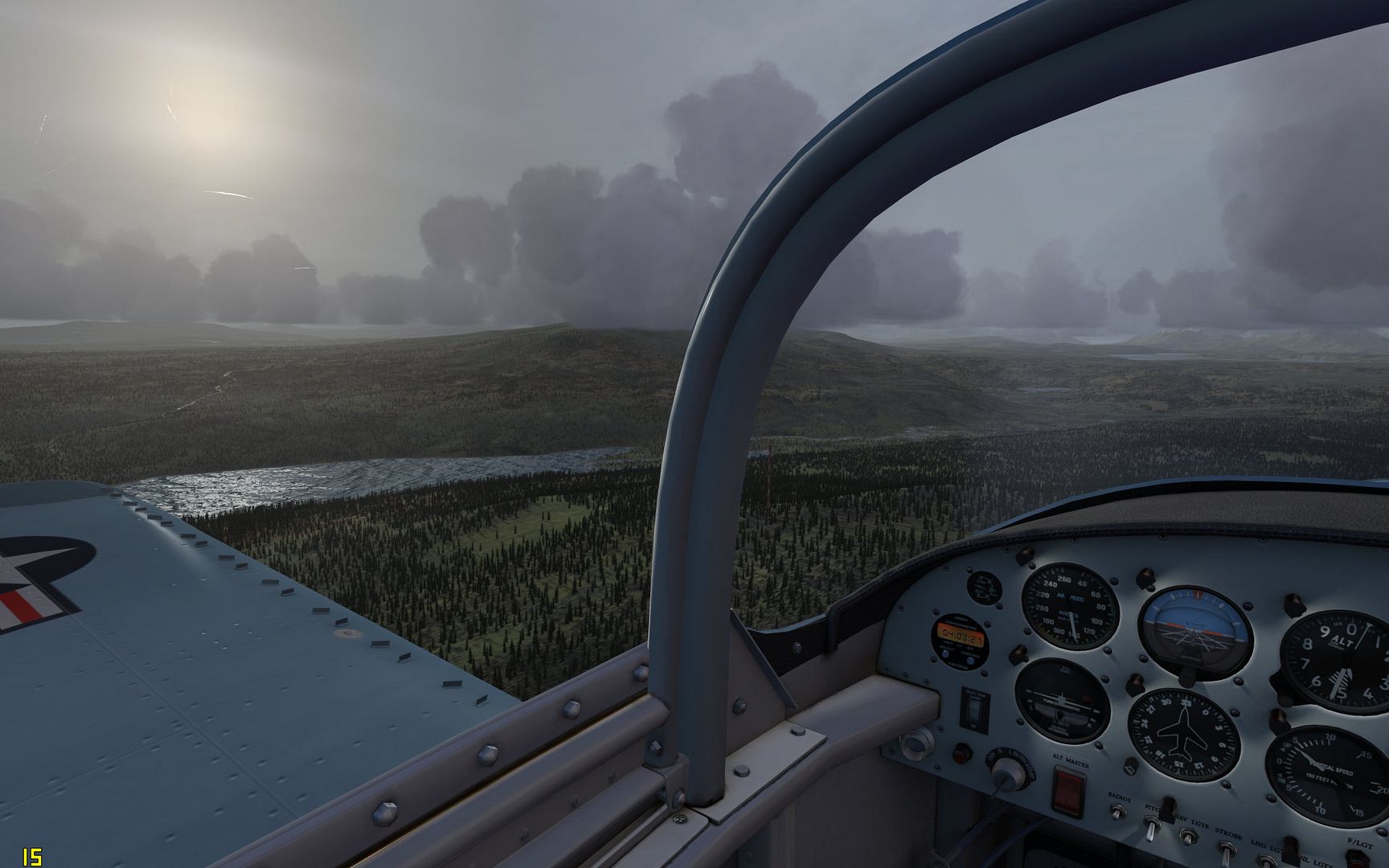 After a successful landing at Paxson.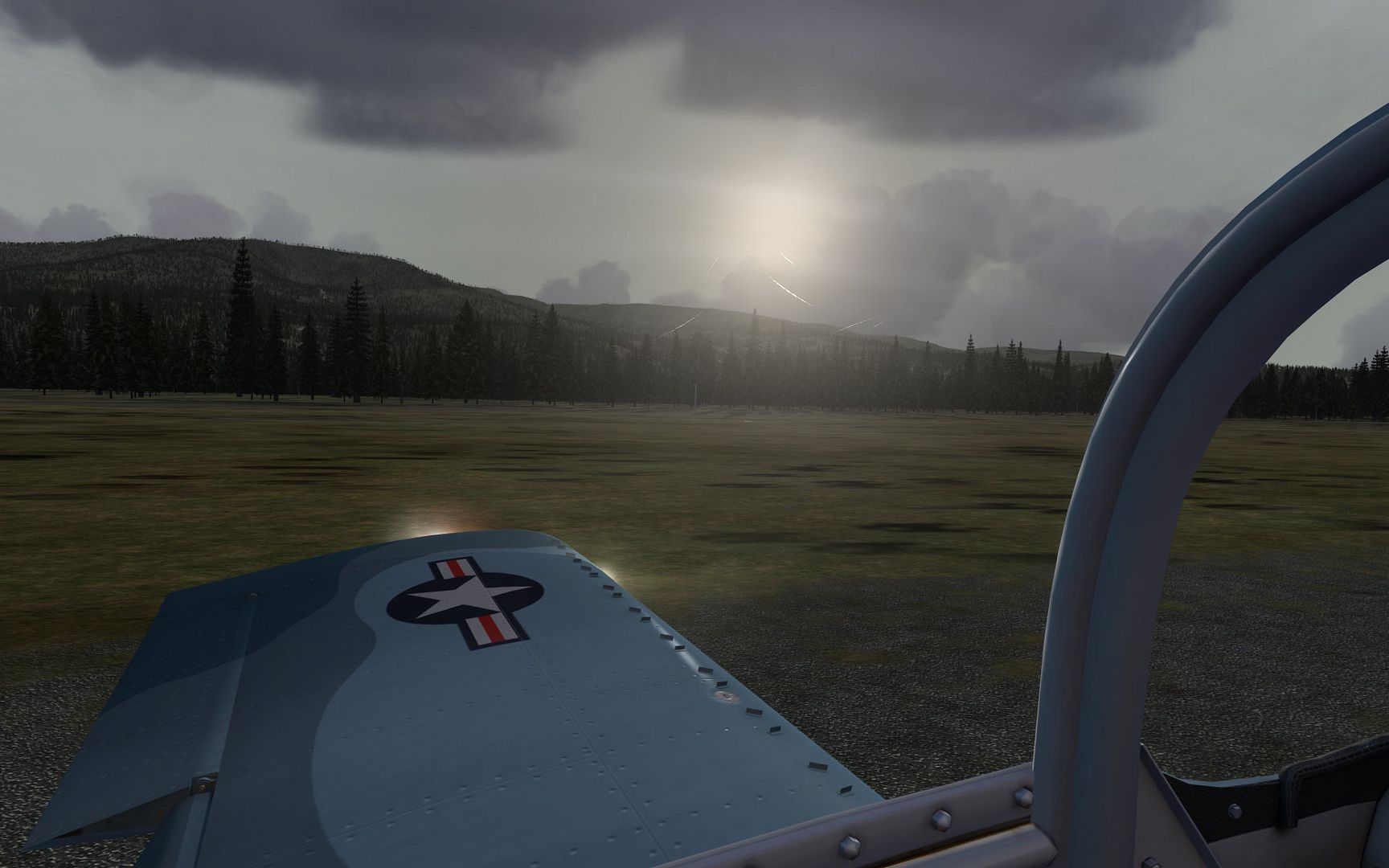 I switched to the Carbon Cub and headed northeast again. Now you can start to see some real mountains. I'm flying in the spring with the weather set to 'among the giants.' I like the low level clouds and how they stack up against the mountains.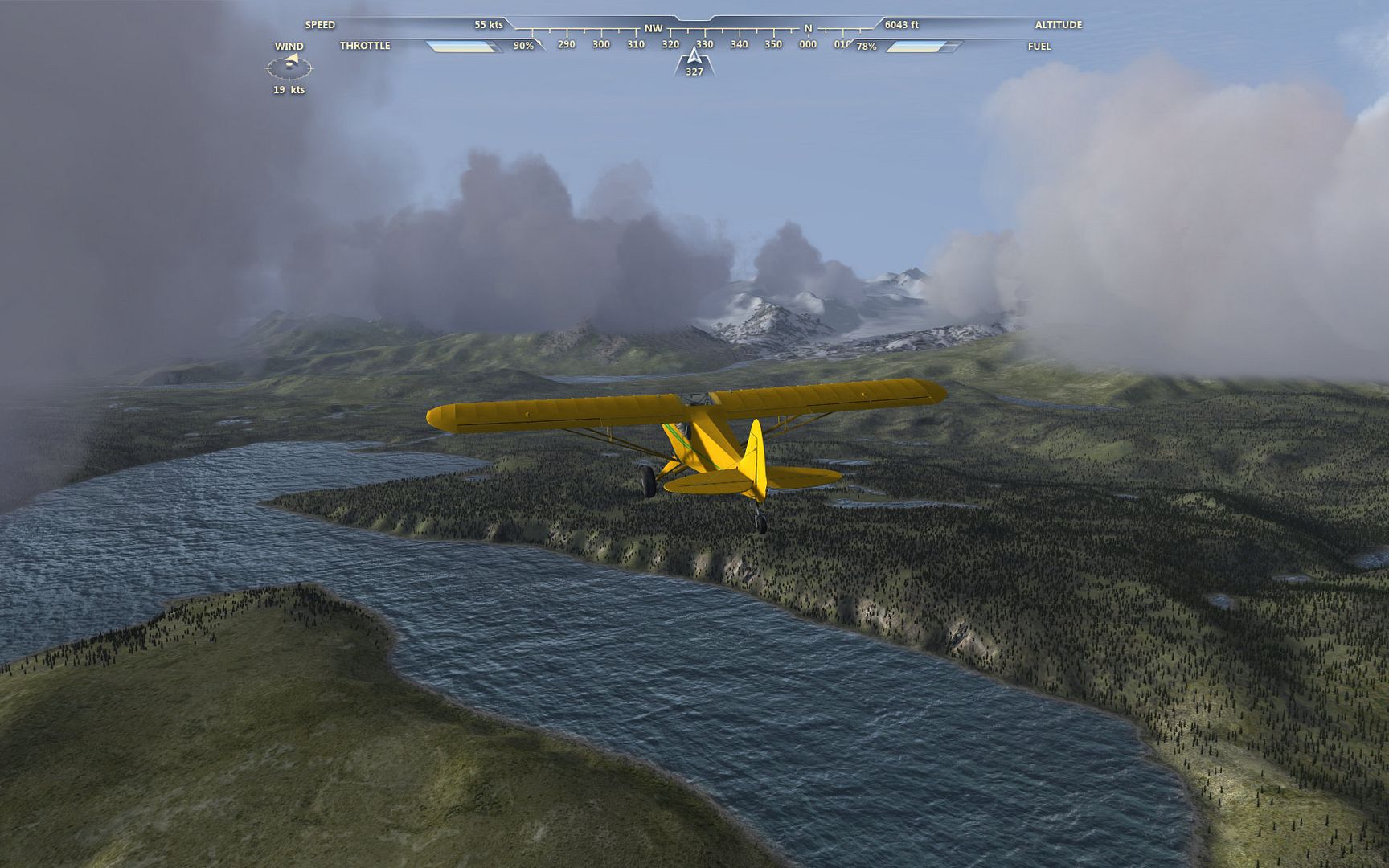 Coming in for a landing at Black Rapids airstrip, now about 30nm south of Allen AAF. I like this weather setting, but the poor Carbon doesn't seem to handle the wind very well. You can see the tiny airstrip on the right. I'm pointed about 40º left of the runway, but I'm more or less headed straight for it. And it only got worse as I came in for the landing.
Luckily the Cub can take a few bounces of the ground while going almost sideways. Here I am after a successful, if harrowing landing.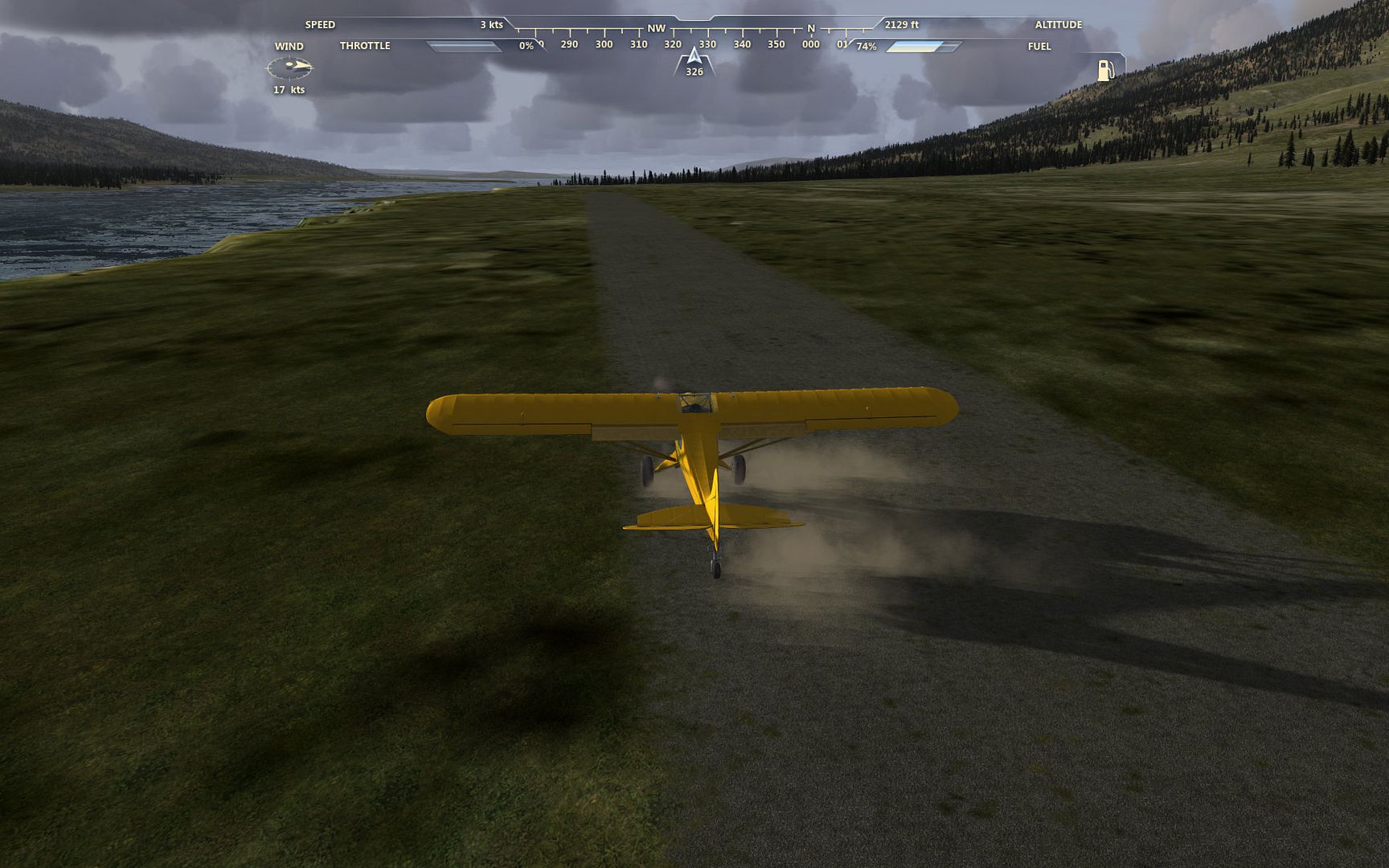 Now in the Stearman headed for Allen. I took Roboray's advice and flew through the pass. The river that I'm above (Delta River I think) stretches from Black Rapids all the way to Allen where it joins with another river (maybe that's the Delta, google maps isn't too helpful for rivers).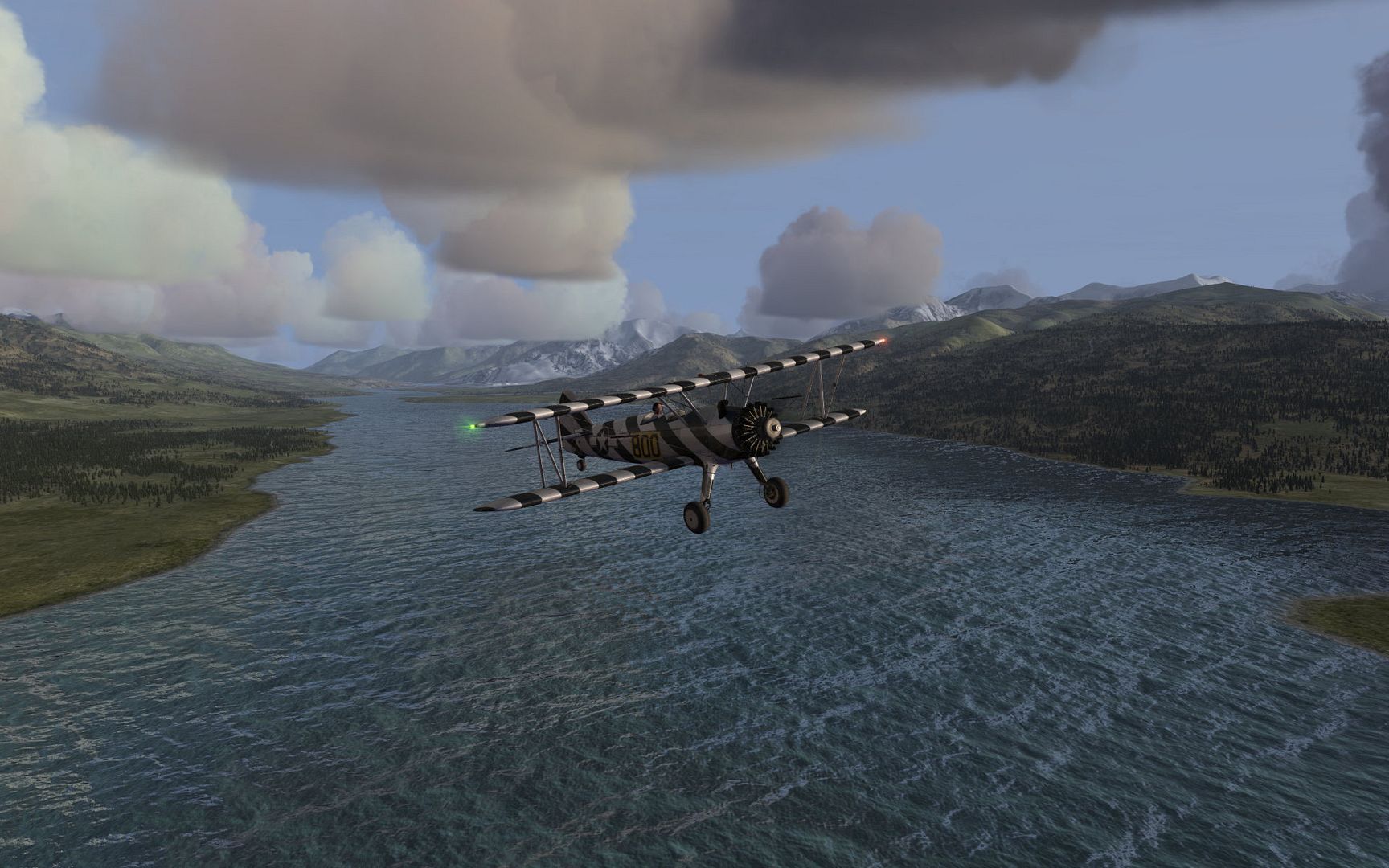 Coming in to Allen as the sun is setting.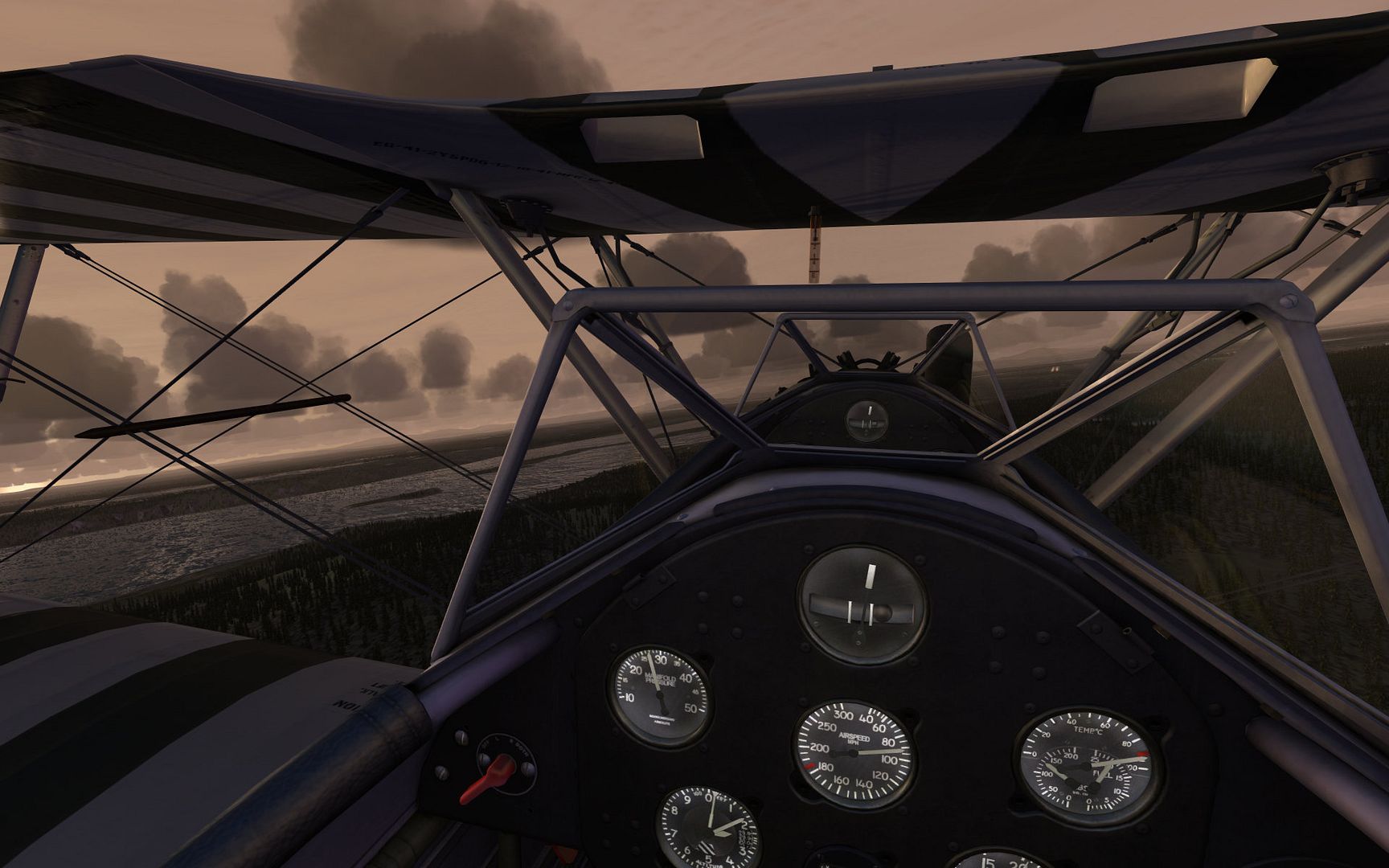 And I'm down for now.
Next up I think I'll head to Fairbanks, a short distance to the Northwest. From there I'm thinking I'll head all the way out to Nome, on the west coast of Alaska, stopping a few places on the way. I'll see if I can't see Russian after that. And then, who knows, I could spend weeks just making 2 or 3 hour hops all throughout Alaska.